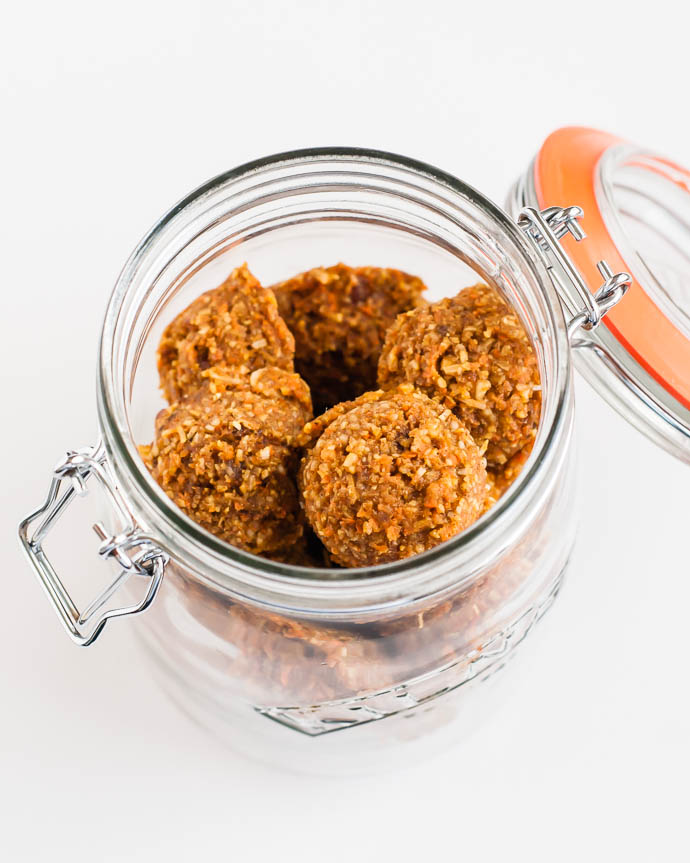 Energy bites are one of my very favorite snacks for several reasons. I love that you can make them with myriad ingredients depending on your mood. Today it's carrot cake energy bites because it's spring, the weather is warm, and I want to be outside. And for that I need a snack that gives me a little energy boost – these bites do that. They are grain-free, gluten-free, dairy-free, and naturally sweetened with dates. They also come together very quickly and keep well in the fridge for a week or so, of longer in the freezer. That means you can whip up a batch or two and not have to worry about making more for a few days. The other thing I love about these is that my kids will eat them. SO much better than a chocolate chip cookie after school and just as tasty.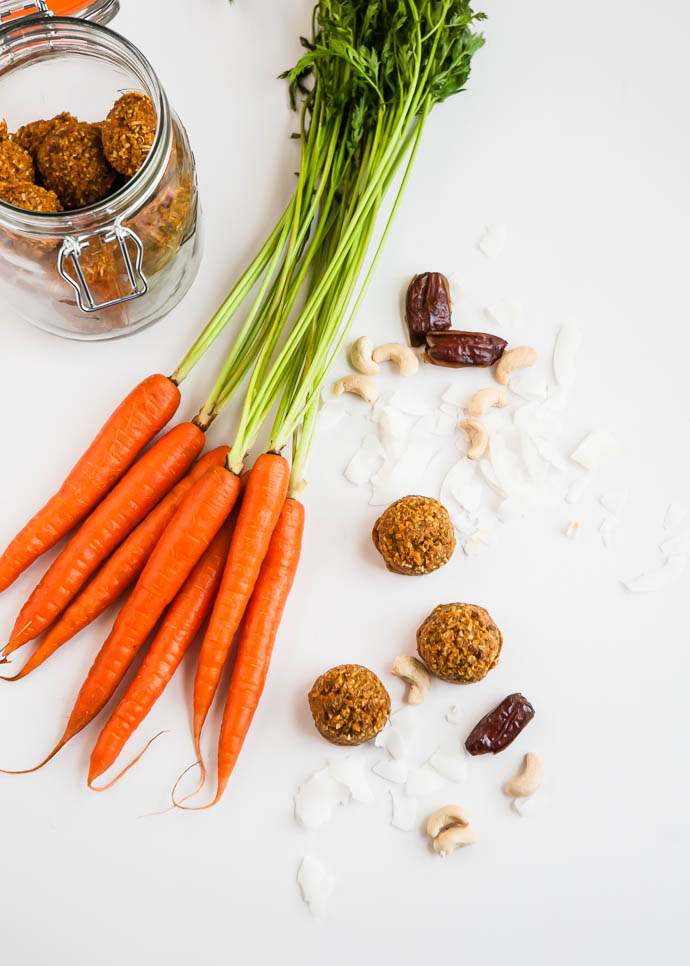 Ingredients
1 cup diced carrots (about 2 medium)
1 cup raw cashews
1 cup unsweetened shredded coconut
10 medium sized dates (5 very large)
2-4 Tablespoons raw sunflower butter
1 teaspoon ground cinnamon
1 teaspoon fresh grated ginger
1 teaspoon pure vanilla extract
pinch salt
Instructions
Place carrots into the bowl of a food processor fitted with the chopping blade. Pulse until finely chopped. Transfer to a medium mixing bowl.
Next place raw cashews into the food processor and pulse until finely chopped. Place in bowl with carrots.
Repeat the same process with the coconut and transfer to the bowl with the other ingredients.
Put the dates into the food processor and pulse until chopped, then add the carrots, cashews, coconut, 2 Tablespoons sunflower butter, cinnamon, ginger, and vanilla. Pulse until the mixture comes together. If it's too dry, add more sunflower butter a little at a time. Scrape down sides and pulse again, if needed.
Lay a piece of parchment paper in a clean, dry surface. Use the small ice cream scoop or tablespoon-sized measuring spoon to form the mixture into 18-20 balls. Eat immediately, or place in fridge or freezer to firm up a bit. Store in an airtight container in the fridge for about 1 week, or in the freezer for a month or two.
Note: You can roll them in unsweetened coconut or leave them as is.
As I said, you'll want to keep them refrigerated, but that doesn't mean you can snag a few for the road. They are great little snacks when you're hiking or doing something else outdoorsy.
Bon Appetit
Lindsey
jewelry designer
and Bead maker. She is the creator of the
Echo Creative Club
and the ever popular
Do Over Challenge
. When she is not creating art, she helps people live happy, healthy lives.
HUGE De-stash
Sale going on now. ALL proceeds will go to Doctors Without Borders.