I'm sure you'll be able to remember a time as a child when you didn't understand the rules of the game and played anyway.
Perhaps you can remember the long school-free summer days (away from the prying adults with the permission slips), and along with your besties you made up games from scratch, including the rules, played it for 8 hours straight, and then the next day a completely new game, with new rules was introduced.
You didn't stop to think, 'Well, shall we debrief play from yesterday, have a meeting and review the impact of the game on our childhood memories and how we can improve on our play efficiency?' No, no, no, you played first and ironed out the details as you went along.
Rules were always being rewritten, the concentration and focus was applied to the game, not always the details.
Explaining was easy.
Changing path was easy.
Rule writing was easy.
Switching the rules was easy.
Seeing it work first was easy.
Complex problems were easy.
Finding a way over hurdles was easy.
Improvements along the way was easy.
Less talking more doing (playing) was easy.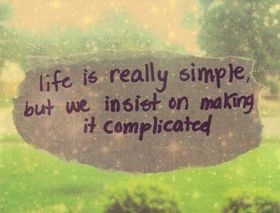 Okay, you're an adult now … details are (sometimes) needed, I'll agree.
Making a career move isn't the same as Hide and Seek in a corn field. Planning a new business isn't the same as building a den made out of sheets and the wood from an old shed from the house five doors up.
But how different is it really?
Where do you deliberately create hard and complicated for yourself? Is there another reason behind it? Are you stalling, putting off, procrastinating for something not yet clear to you?
"Look at life with the eyes of a child", Henri Matisse said.
Or, even better if you have one hanging around your home, hire them as your coach for 8 minutes.
Children keep it simple. You were a child once.
They don't have the vocabulary to confuse (yet). They sure as hell don't worry about every move. They think in pictures, as writing isn't easy communication for them.
They see the end and work backwards. They make it up as they go.
Resisting?
I'm not saying you are a child. I am suggesting you are, and always have been, highly creative (including problem solving, ideas, planning, seeing in pictures) … I'm asking you to remember that.
How?
Start with the end in mind. Ask yourself, 'What's my shortest path?'. Take it. The hurdles that were going to appear will. See yourself past them at the start, even if you don't know how.
Try not complicated for a while. See life through the eyes you had as a child.
D.B. PhD
Jeannie is a graduate of St. Paul Collage of Visual Arts, accomplished mixed media artist, published
jewelry designer
and Bead maker. She is the creator of the
Echo Creative Club
and the ever popular
Do Over Challenge
. When she is not creating art, she helps people live happy, healthy lives.
HUGE De-stash
Sale going on now. ALL proceeds will go to Doctors Without Borders.